Single Point of Contact Centre
We have our own comprehensive Single Point Of Contact (SPOC) centre to manage all technical issues, leaving our customers with hassle-free support and peace of mind. Our SPOC Team follow the ITIL standard and is manned by Level 1 to Level 3 technicians.
All our employees are BPSS cleared and all our technical employees are SC cleared.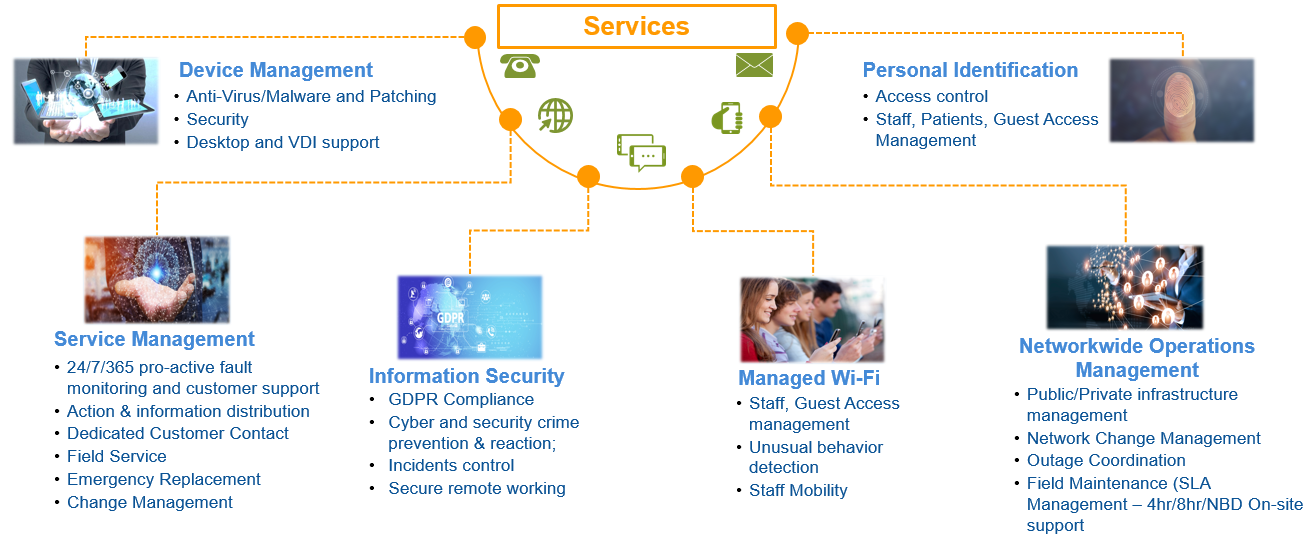 Service Desk
Continuity of services
Security Management
Technology

Device Management
Anti-Virus/Malware and Patching
Security
Desktop and VDI Support

Personal Identification
Access Control
Staff, Patients & Guest Access Management

Service Management
24/7/365 Pro-active Fault Monitoring and Customer Support
Action & Information Distribution
Dedicated Customer Contact
Field Service
Emergency Replacement
Change Management

Information Security
GDPR Compliance
Cyber And Security Crime Prevention & Reaction
Incident Control
Secure Remote Working

Managed Wi-Fi
Staff And Guest Access Management
Unusual Behavior Detection
Staff Mobility

Networking Operations Management
Public/Private Infrastructure Management
Network Change Management
Outage Coordination
Field Maintenance (SLA Management - 4hr/8hr/NBD On-site Support)